Electronic Medical Administration Record (e-MAR/EMAR/iMAR)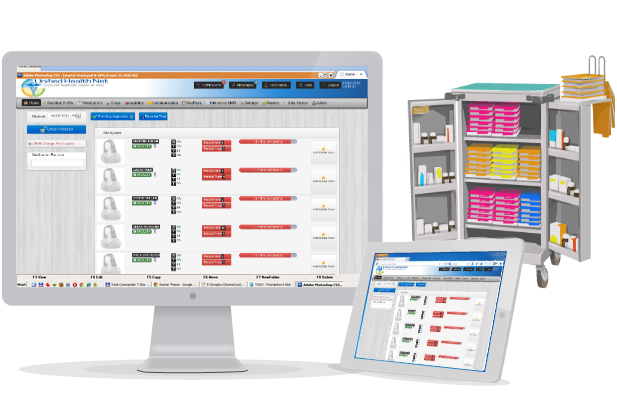 UHN eMAR (Electronic Medication Administration Record) is designed to provide real-time access to nurses for administering medications. Nurses can use the application on a laptop/tablet device that also provides hardware integration features such as barcode scanning and QR Code scanning. The system can be used both online as well as offline with a base internet connectivity for synchronization on cloud either through a WiFi connectivity or a LAN connectivity.
LTC/ facilities using a perfect eMAR system have documented a 33% reduction in medication administration errors, as well as a reduction of 45% in documentation time.
UHN' intuit dashboard and interfaces for nurses helps them to administer the patients Ensuring the 5 Rights of Medication Administration:
Right Resident
The patient to whom the medication is to be administered matches the medication to be administered.
Right Medication
The medication to be administered matches the medication ordered for the patient.
Right Dose
The dose of the medication to be administered matches the dose of the medication ordered for the patient.
Right Route
The route of medication delivery matches the route specified in the medication order.
Right Time
The time that the medication was ordered to be administered compared to the current time.
Right Documentation. Electronically record the time and date in accordance with the standard and user identification when a medication is administered .The date and time recorded utilize a system clock that has been synchronized and user identification is based on the secured user credentials allotted to the user.
e-MAR Overview
UHN Electronic MAR System will help you to accomplish the following:
Guide critical med pass functions.
Prevent medication errors.
Update electronic MARs and ensure high quality of care.
UHN e-MAR manages meds from a typical med-cart equipped with a bar-code/QR code scanner and a laptop/tablet.
To ensure accuracy, UHN e-MAR will do the following:
Identify each resident by a photo on the dashboard as well as medication administration(Medpass) screen.
Warn you if:

You select the wrong med.
You about to give a med at the wrong time.
The resident is allergic to the med.
The med will interact adversely with other meds.

Display:

Current medications
Pending medications
Meds about to be Missed/ supended
Missed meds
PRN/ Routine(scheduled) meds
Treatments and Anciliary (Literal Orders)
Initiated / Non-reported Meds
Follw ups
Vitals/Pain check
UHN eMAR interfaces to the pharmacy for easy re-ordering. When you receive the meds, check them into the system using the bar code scanner.
UHN eMAR interfaces to the Hi-Tech Clinical Records System to provide medication information for Quality Assurance reporting.
Key Benefits
Improves Patient Safety
Barcode Medication Administration Provides Five Rights Checking
Document Observations
Clinical Screening
Easy to Use
Look and Feel of Printed MAR
Touch Screen Capable
Flexible Access Options
User Defined Rules
Alerts
Improves Work Flow Management
Integrated Status Board
Preparation Phase with Ingredient Checking
Shift Workload Management
Charge on Administration
Management Reports
Omission and Near Miss Notifications and Reporting
Key Features
Resident Demography

Resident General Information
Resident Preferences
Resident Documents
Contacts
Vaccination Detail
Medical Condition
Allergies
Quick Alerts
Insurances

Resident Medications

PRN / Scheduled
Medication
Treatment
Ancillary
Order Status: Received Orders,Awaiting Delivery Orders,Partially Received Orders
Active Rx, Inactive Rxs
Rx On Hold, Discontinued Rxs, Cut Date Finished Rxs
Simple, Complex schedules
Unit Dosage (Single Dosage)
Fill
Refill Orders
Replacement Orders

Medication Administration (Medpass)

Administer medication
Administer Online/ Offline
Suspend medication
Administration History
Barcode Scan/manual button press initiation/prep med
Medpass Comments
Medpass Report options: Successful, Spit Out, Dropped, Refused, Other, Cancel etc
Single unit replacement order option
Drug images on medpass screen
Administer scheduled/ PRN medication, treatments, anciliary
Vitals/ Pain check , Follow ups

Internal Communication System
Pharmacy Affiliates
UHN has interface solution for LTC Pharmacies. UHN's cutting-edge eMAR solution builds on UHN platform to facilitate seamless communication between pharmacies and facilities.
The Following are key features of UHN Pharmacy module
RX Management
RX Workflow Management
Revenue Cycles
Electronic Adjudication
Enhance facility communications and eliminate common distribution errors
Integration with major pharmacy software systems like Framework LTC etc